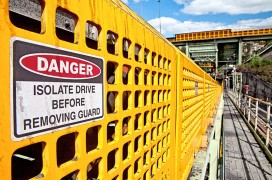 Conveyor Guard (+)
The DIACON Conveyor Guard is a plastic mesh, conveyor guarding system which improves safety in the materials handling industry. Complementing the DIACON Hungry Board, this corrosion free and lightweight guard requires no painting, is easily installed and allows for quick guard removal during maintenance operations.
Manufacture
Custom shaped high density polyethylene guard panel with holes for visibility and ventilation.
Multiple angle options possible for improved fitment.
Use of "Hook, Hang and Lock" protocol.
Hooks stiffen panel in vertical and SS angle iron gives strength in horizontal plane.
Panel sizes – up to 3000mm long.
Mounting & Installation
Custom shaped hooks neatly fit supports on the DIACON Mounting Bracket.
Unsupported panelling at bottom edge provides for custom onsite fitment to equipment and thereby avoiding the need for onsite "hot work", permits, etc.
Operation
Weight of each guard is punched into the panel to help assess the manual handling risk during removal.
Allows safe hanging on handrails during maintenance.
Meets Australian Standard AS4024.1-2006 & AS1755-2000
Attachment of guards to existing equipment.
Removal of guards with a tool.
Correct placement of signage on guard: safe isolation of equipment.
Flexibility of signage location to meet other international standards or preferences.
Reaching through openings on guards prevented.
Preferred colour for guarding – AUST STD Y14 Golden Yellow.
Benefits
Diacon Conveyor Guard
Traditional Conveyor Guarding
Lightweight & Easy to remove
100% Corrosion Free
No need to paint
Easily configurable into a variety of shapes
Mount using drop on "hook and hang" system
Panel guard can hang on nearby handrail when removed
Custom labelling is cost effective
Panel weight is marked on guard
Holes available in range of sizes
Holes can be located specifically where required
Provides long life UV protection (12-15 years)
Meets Australian standards for load/deflection requirements
Safe during operations and maintenance periods
Sound deadening qualities
Mesh panel does not requre a frame construction
Discover how the Diacon Conveyor Guarding system is the smartest way to improve the safety and productivity of your conveyor belt system.
How does the system work?