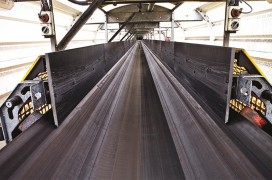 Hungry Board (+)
The DIACON Hungry Board is an aluminium-reinforced, plastic panel that is used on conveyor belts to contain product, reduce spillage and increase conveyor capacity by up to 30%. From greenfield sites to existing plant upgrades, DIACON is your low cost, corrosion free, lightweight and easy to install alternative.
Manufacture
Certified anti-static, ultra high molecular weight polyethylene plastic (FRAS approved material available).
Aluminium channel support bar.
Handles for easy removal.
Panel sizes – up to 3000mm long.
Lightweight; can be marked permanently if required.
Mounting
Mounted on DIACON Mounting Brackets and fastened by steel wedges inserted in aluminium slotted pins.
Dual purpose – provides for simultaneous mounting for DIACON Conveyor Guards.
Operation
Lower edge of panel is matched to the troughing angle of the conveyor belt.
Downward adjustment allows for wear of Hungry Board skirt during operation.
Hungry Board height is usually 300-400mm.
Height is customisable to the conveyor's volume needs, belt drive capacity and headspace.
Easily removed for belt splicing and trough idler change out.
Benefits
Diacon Hungry Board
Typical steel fabricated hungry board
Easy to remove
Lightweight
100% Corrosion Free
No need to paint
Easily customised to suit conveyor
Mount using pin and wedge system
Panel weight can be marked on each hungry board
Safe during operations and maintenance periods
Easily removed for trough idler replacement
Hungry board does not request a heavy support structure
Discover how the Diacon Conveyor Guarding system is the smartest way to improve the safety and productivity of your conveyor belt system.
How does the system work?